No, I still have not taken a Belly Pic for this week. I honestly planned on taking one Wednesday, but instead got filthy at work (I work with special needs/developmentally delayed infants, babies and toddlers) and had no desire to have my picture taken. I'll try to get on that today.
But anyway, our BFP story. I've been meaning to post this for...oh, I don't know...7 weeks, haha. You always have this scenario in your head about getting that positive test and all the sweet ways you will tell your husband. For others, it likely works out the wonderful, well planned out way the have been dreaming of. For me and Ben...not so much. Enjoy our romantic tale.
I had to pee. So I made my way to the bathroom. But on the way I grab the box of HPT's I had just bought. I purposely bought the three pack so I would have one extra test to burn, as tests usually come in a 2 pack (as a general rule, I bought HPT's and OPK's off the internet for dirt cheap, I just happened to be out of them at this particular moment). I figured: I'll pee on it, it will be negative and I can mentally start preparing myself for another failed cycle.
So anyway, I get all the way back to our bedroom and use the bathroom in our room. As soon as I sit down, I realize...there is no toilet paper. Not a big deal. I pee on the test, stick it on the back of the toilet and just wait for the test to develop while he takes his sweet time bringing me the much needed TP. Ben is home. He can just bring me a roll. So I bang on the wall (our master bath and den share a wall) and scream for Ben to bring me some toilet paper. He agrees, but I don't hear him get up. So I bang again. I can hear him getting agitated. "I'M COMING! ::grumblegrumble::" Insert heavy sigh from me. I grab the test off the back of the toilet, thinking I'll be inspecting just now negative the test is this time.
Then a pink line starts to show. Okay. That's the control line. It always shows first. (At this point, I still have not heard Ben get up to bring me the desperately needed TP.) But wait. That line is on the left side. The control is always on the right. This must be a defective test. The strip must be in backwards. So I flip the test around. There. Now the line is on the right...But wait. Now there is a line showing up on the (now) left side. "Not funny" I think to myself. I flip the test around again. There are 2 lines. Two. The test line is darker than the control line. I still think it's fake. I shake the test. This is no Etch-A-Sketch. That like is staying and getting darker by the minute. I start crying. I'm sitting on the toilet, pants around my ankles, holding this test stick, sobbing. It's like a scene from a bad Lifetime movie, only I'm not a teen in a bad relationship who has just realized she is pregnant. I'm a happily married adult who is seeing almost two years of struggle, one loss, hundreds of dollars in fertility appointments and treatments coming full circle and receiving a huge blessing.
I bang on the wall again, as Ben still hasn't gotten up. He is pissed now. I hear him stomp through the house, go into the laundry room, get the TP out of the pantry, and continue his stomp parade towards our bedroom. He's still probably a good ten feet away from our bedroom when I can't hold it in any longer and I scream "I'M PREGNANT!" I hear his stomps turn into a sprint. He gets to the bathroom to find me still sitting on the toilet, pants still around my ankles, sobbing and holding the test. Not the cutesy way I had planned it, but he got the point anyway. He looks at it and then just hugs me. I physically couldn't stand up. I was in shock. Ben was over the moon. Our prayers, the prayers of all of those who knew our struggle, all the hours spent at the RE's office, the Clomid, the Hcg injection, the countless dates with the dildo cam had all paid off.
So I called my dad first. He was so excited. My dad rarely gets excited, but I could hear it in his voice. Then we called Ben's mom, whose house we had just spent the weekend at (I tested on Monday afternoon, we stayed at her house Friday-Monday morning). She already knew. She could tell by the way I acted that weekend. I wish she had told me and saved me the $20 on tests! Haha! She was thrilled. Our parents knew about all our IF issues, so they were aware they would (hopefully) get this phone call soon.
I saved my mom for last. She knew the most about our struggle. I knew I was traveling home that Wednesday, so I wanted to surprise her. The plan was for her to pick me up at the train station, but since my train was 7 hours late, that plan didn't work out. So my dad picked me up and took me to their house. My mom met us outside and as she walked by me, she slapped me in the stomach (which I really appreciated-nothing like making a girl who already feels as though her bloat is reaching Wisconsin feel even bigger, mom!). I said "I wouldn't do that." And she asked why. "Because there's a baby in there." She must not have heard me, or it didn't register or something bc she just kept walking past me. Then she stopped and turned and my dad and I busted out laughing. "WHAT?!" I told her again, "There's a baby in there." I really don't think she believed me at first. She was so happy though. I think she wanted me to be pregnant more than I wanted to be.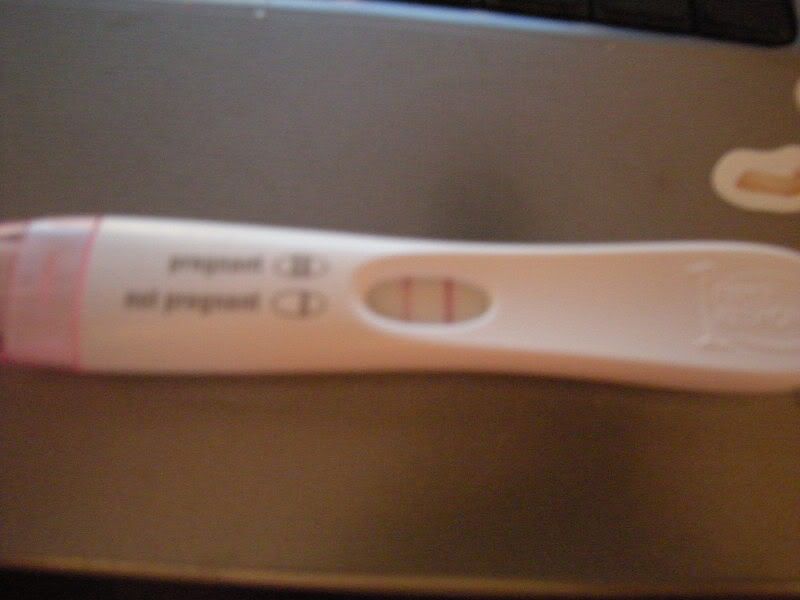 So that's the story. I took 2 more tests and had my beta's drawn and 7 weeks later, here we are. I really wanted to have this down somewhere so I could go back and show/tell Baby someday. My memory isn't what it used to be, haha.


Hugs&Kisses

11w2d